SAVE MONEY WITH COOKIE
You may think getting financial advice from me is like getting saving tips from Confessions-of-a-shopaholic's own Becky Bloomwood but after getting cut off from the bank of daddy I picked up a trick or two along the way.
Image via collegefashion
Have you ever avoided looking at your bank account for weeks at a time just to avoid that inevitable mini-heart attack? They say ignorance is bliss, which is definitely true for most things but when it comes to those dolla dolla bills ya'll I would urge you to take a different approach.
Image via lovefromflorencegrace
Lets start with the 50/30/20 rule:
So this strategy breaks down your horrific spending habits into three categories with certain percentages.
50% of your income will be spent on essential expenses like rent, utilities and food (not Netflix and make up, although they are quite essential… may have to think of moving these).
Unnecessary expenses such as: TV licence, internet and your phone make up 30% of the budget.
And lastly, 20% of your income is dedicated to future goals like savings, debt payments, and your retirement fund. To make sure you don't fritter this away, set up a standing order that goes straight into your savings each month.
Note: Use this method as a guide. Depending on your income this may have to be tweaked.
Image via Grimms
Don't be disheartened or give up like I did the first time I tried this method because it takes time to break old habits and create new ones – so don't be so hard on yourself booboo.
Image via Kalriekloss
Every penny makes a pound
Put the metal away: If you've just bought lunch for £6 and have £4 in change- don't spend it, pop it in a little jar at home. This applies to any amount of change you will get however little or large. It's such a great tip because you will be saving without even missing the money or thinking about it. One friend at work has been going cray-cray with this method and has managed to save £400 in the space of a year which will be used towards holiday spending!
Image via quickmeme
The 14-day rule
This method will ensure that your obsession for a certain item will stand the test of time because most things we purchase we get bored of in the space of a week. If you still want to buy something after two weeks you can put the money aside and feel even better when you buy it, knowing it wasn't just a spontaneous purchase but an investment.
Don't lapse when it comes to sales
Buying lots of things you don't really want or need because they are on sale does not mean you are saving money. Buy higher quality things but less often and this will mean you won't have to replace things as much.
Image via lovefromflorencegrace
Vacays: Delete your cookies!
If you want splash your dough on a vacay (who doesn't want "that gold no spray tans") then that cute dress will just have to wait.
Remember booking in advance may not always be the best or cheapest option. Websites like: Expedia, Momondo, Cheapflights, Skyscanner and Kayak are good  to check and you can even search via destination but always delete your cookies when browsing as airlines are known to increase prices if they know you're interested in a certain flight or journey.
Compromise / sacrifice
Try to avoid getting sucked into FOMO and say no or embrace an evening in. You don't always have to spend money when spending time with friends. Think of cheaper alternatives like a girl's night with face masks and pizza or take a trip to the museum.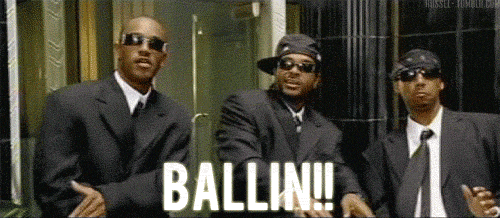 If in doubt- chuck it out!
Mama Cookie always said this and although I am not as savage and ruthless as her I still try to keep this in mind.
Go through your stuff and sell things you don't need from electricals like old phones and laptops to old clothes.
Unsave your card number
Making it more arduous and harder to buy online is definitely more likely to deter you from making those last minute Missguided purchases. My theory is making it harder to buy will make it easier to save.
Image via gurl
Meal planning is a must
This is the step I am the worst at following. I end up skipping this and eating out 4-days-a-week and getting take aways to cover the other three days.
Before doing your weekly shop make a list of everything you need. I start with the fridge, then the cupboards and make my way to the bathrooms. Then, try to plan what meals you'll be having and what lunches. I often make extra food during the week so I can pack up the leftovers for the next day.
If you think your veggies will go bad before you end up using them up, cut them up and put them in freezer bags as soon as you buy them. The same goes with bread, pop it in the freezer and just use your defrost function on the toaster before eating.
Image via quickmeme
Dedicate a day to life admin
…or at least spend an evening on it.
Open all your post, pay unpaid bills, give those clothes that don't fit right back, check your online banking, book train tickets in advance. I know it doesn't sound like the most fun you've ever had but doing these things will 100 per cent make your head clearer as you'll have a much better understanding of your finances.
Image via divinations
Call me old fashioned but I don't use apps to track my spending although I should as I've heard they are totally awesome. If you're like me and prefer to have everything in written form you could download and print these finance trackers here.
Did this even help at all?
Let me know in the comments 🙂